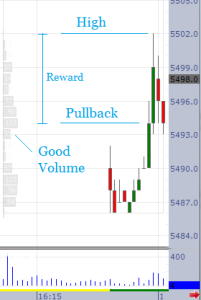 Today I wanted to give a brief overview about risk and reward with one of my favourite setups.
I love it when price runs through the highs or the lows.
There's a few reasons why I like it, but the main one is that it gives us a great risk / reward ratio with our trades.
Here's an example of a good spot and how I trade it.
On the chart we can see that price has pushed up and made an early high, only to then pullback.
As it pulls back I'm immediately watching the volume profile (or market profile) to see where there are a lot of contracts trading – as that's a sign that there is continued buying.
It is good to target the little "ledge", that is created in the volume profile as that's a sign of buying there in the past and we can see that on the chart.
The next thing I like about this spot is that when we run a high or low, we often get a stop run.
People like to target the highs and lows as places to pick tops and bottoms. As a result there are stops there.
So I know that if price can make it up to that point we will likely get a test of that level and it might just run through for even more "reward " so to speak.
I use a set stop loss of 3 ticks for my market. So my risk is clear.
In this example if we hit the highs I stand to make 8 ticks, but more likely if it runs the stops I most likely stand to make 10+ ticks.
So as it stands I'm looking at a better than 3:1 spot.
And that's pretty nice in my book.
In this case we had more than 100 contracts trading at the volume profile "ledge" so it was a good sign to get long.
And then after a few minutes we got price to run all the way back up to the highs – as we hoped it would.
A nice little high probability – solid risk/reward trade.
Good Trading.