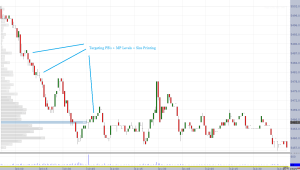 It's been an interesting couple of days in the Aussie market, with some negative sentiment around combined with some important fundamental data.
I really enjoy trading when there is that hint of negative sentiment in the air as it can lead to some pretty biggish moves, which is what we've been seeing.
If you keep on top of news and get a feel for how the "market" is feeling, you can catch some pretty nice moves when they come along.
Recently we've seen the price of iron ore really fall away quite heavily. There are also increasing reports about Chinese property weakening all combined with low consumer confidence on the back of a less than well received federal budget. Yesterday was RBA day and today we had GDP.
This is all big stuff for the Aussie market.
When we get these environments my trading plan starts getting pretty simple. I'm just looking to get short on pullbacks with my usual formula.
But the moral of the story is that if you're prepared there can be some easy trades out there for you.
Good Trading